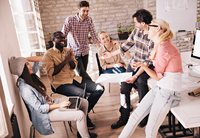 NEW GYM ™ Dr. Robert Blackman, D. C.
30 day detox cleansing program
A-Treatment 2 x per day, 6 days per week
1-NISHA (Non Invasive Surgical Harmonizing Alignment)
2-NPTR (Neuro-Perceptive) Transposition Reprogramming
(Retraining the heart and brain)
3-M-Assuage - A Convert Stress to Power Therapy
B- 7th dimension (Ergonomic Platform.
TAP (Trans-Age Paradigm) The simplest and easy way to find out, "How to Live Forever, Without Breaking a Sweat", free of disease and limitation.
C- Nutrition and Diet
A mostly vegetarian diet is prepared daily

Contents; high nutritional value of foods

Lower calories, high powered energy source

Weight loss significant, but striking a balance of body and mind
D- Restobics (Exercise of Play)
The "fitness revolution" that combines posture and breathing and rewriting our "Stress DNA".
Our classes
IN OUR CLASSES WE ROMP, WE PLAY, WE REINVENT "RED LIGHT, GREEN LIGHT", THERE ARE NO TIME LIMITS, WE POSTURE AND BREATHE AND AT THE SAME TIME CELEBRATE THE MOMENT!

Beginner's Classes
Introduction to posture, "walk the walk", play the play, learn how to "exercise from within", breathing diaphragmatically, leading up to Rest-O-Bics (Dr. Blackman first discovered Restobics, 30 + years ago)..
Advanced Classes
The Restobics AKA Isometronics breakthrough..How to be in the moment, no matter the environment.
NEW GYM Rebel: In YOUR OWN SKIN, REVEL!